SG-231 Home Page
Announcement for the SG-231

Connectivity to ICOM IC-706 and ALINCO DX-70
All SGC couplers do not require communication back to the radio as tuning is initiated by the RF applied to the coupler, however, all imported radios have a tune button available on the front panel with a LED indicator. To take advantage of this availability, SGC has tested connectivity to the ICOM IC-706 and ALINCO DX-70 with the available controls. Note this is a feature of the SG-231 only, the SG-237 lacks this feature.
SGC couplers will perform with or without these connections and could be applicable to other radios not mentioned in this text.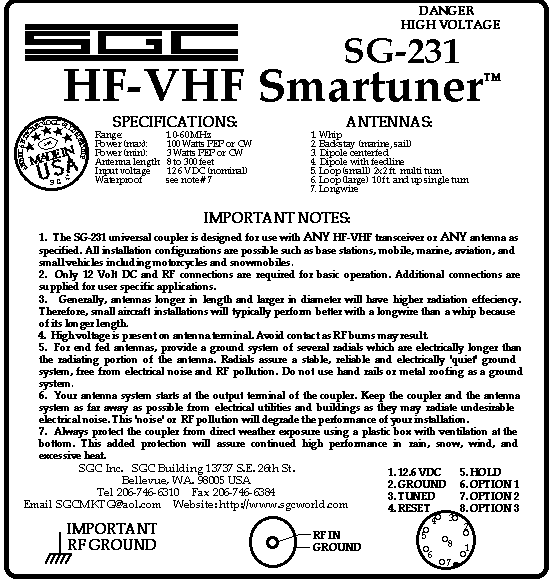 click image to view SG-231 notes

---
ICOM
IC-706
1. Connect the SG-231 to the IC-706 per chart below.
2. The built-in coupler tune function will now work as follows:
A. Depress the <TUNE> button.

B. As the coupler tunes, the <TUNE> LED will blink on and off.

C. When the coupler has tuned, the <TUNE> LED will remain on.

D. Once tuning has been accomplished per steps A,B and C above; depressing <TUNE> again will result in the <TUNE> LED extinguishing indicating that a match already exists.

SG-231 / IC-706 Interconnect Chart
| | |
| --- | --- |
| SG-231 | IC-706 |
| Control Cable | Access Connector |
| PIN 1 | PIN8 |
| PIN 2 | PIN 2 |
| PIN 7 | PIN 9 |
| PIN 8 | PIN 4 |
---
ALINCO
DX-70
1. Connect the SG-231 to the DX-70 per chart below.
2. The built-in coupler tune function will now work as follows:
A. Depress the <FUNC> button.

B. Depress the <TUNE> button.

C. 'TUNE' will be displayed on the DX-70 LCD as the SG-231 tunes.

D. When the SG-231 has finished tuning, the 'TUNE' indicator on the DX-70 will extinguish.


SG-231 / DX-70 Interconnect Chart

| | |
| --- | --- |
| SG-231 | DX-70 |
| Control Cable | Coupler Connector |
| PIN 1 | PIN 2 |
| PIN 2 | PIN 1 |
| PIN 7 | PIN 3 |
| PIN 8 | PIN 5 |